Generally speaking, flexible bulk packaging for industrial-use food ingredients has not been known for transparency, for a couple of reasons.
The technical reason is that, until recently, it was hard (if not impossible) to make flexible film with the right barrier qualities. The marketing reason is that there was no marketing reason, at least when it came to bulk ingredient deliveries to food plants.
Treating Food Manufacturers Like Consumers
The appeal of flexible packaging for consumer applications is that it allows consumers to see the product while they make up their minds whether to buy. That obviously is not a factor in bulk ingredients that get purchased sight unseen and shipped to a plant in a flexible intermediate bulk container or bag-in-box.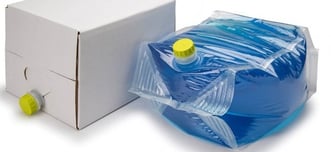 However, industry suppliers and players are seeing through the conventional thinking on transparency, so to speak. It turns out that technical advances in film construction can give transparent flexible film the barrier qualities and recyclability needed to rival opaque film. When that is the case, why not treat food plant personnel like consumers? Why not give them the reassurance and satisfaction of being able to eyeball bulk ingredients coming into the food plant to confirm visually that they have the right color and internal consistency?
Transparent Food Packaging Films Market Anticipating Growth
Overall, sales of transparent food packaging films will grow by about 6 percent a year, according to market research firm Technavio. Such film protects food as well as rigid packaging while letting consumers see it, without the expense, weight, and fragility of glass.
Film producers are using polymer additives that allow them to maintain transparency while achieving barrier properties as good as those of aluminum foil, Technavio analyst Shakti Jakhar told Packaging Strategies.
"Many manufacturers are adding additive agents in polymers to get more moisture and vapor resistance," Jakhar says. "By doing so, they can replace the requirement of aluminum foil to some extent, which can bring some percentage of sustainability in their business divisions."
One of the traditional ways to achieve high barrier properties in transparent films has been to use chlorine-based additives. However, this adds to carbon emissions during manufacturing and compromises the film's recyclability. Innovations in film composition have led to the development of high-barrier transparent film without chlorine, while other innovations in recycling have allowed for eco-friendly disposal of chlorine-added films.
For instance, Enval, a waste-handling firm based in England, has developed a disposal process that involves burning chlorine-laden film in an oxygen-deprived chamber. The resulting residue of liquid carbon and carbon gas can then be used as fuel.
Advantages for Transparency in Bulk Containers
Why would food suppliers consider using transparent packaging for shipment of bulk ingredients to food plants? The answer is simple. Using transparent film for bulk ingredient packaging can help ingredient suppliers show their food plant customers that they have nothing to hide. This small psychological boost may constitute an edge in a highly competitive environment where every edge counts.
Download our Bag-In-Box brochure to learn more about CDF's fully recyclable bag-in-box options.